Dobre stvari treba ponoviti i napraviti od njih tradiciju, pa smo tako odlučili da nastavimo sa doniranjem dijela prihoda od prodaje ulaznica za Konverziju.
2022. godine smo zahvaljujući vama – sjajnim ljudima koji su odlučili da dođu upravo na Konverziju na edukaciju – sakupili 3500 EUR koje su uplaćene organizaciji SOS Dječija sela u BiH.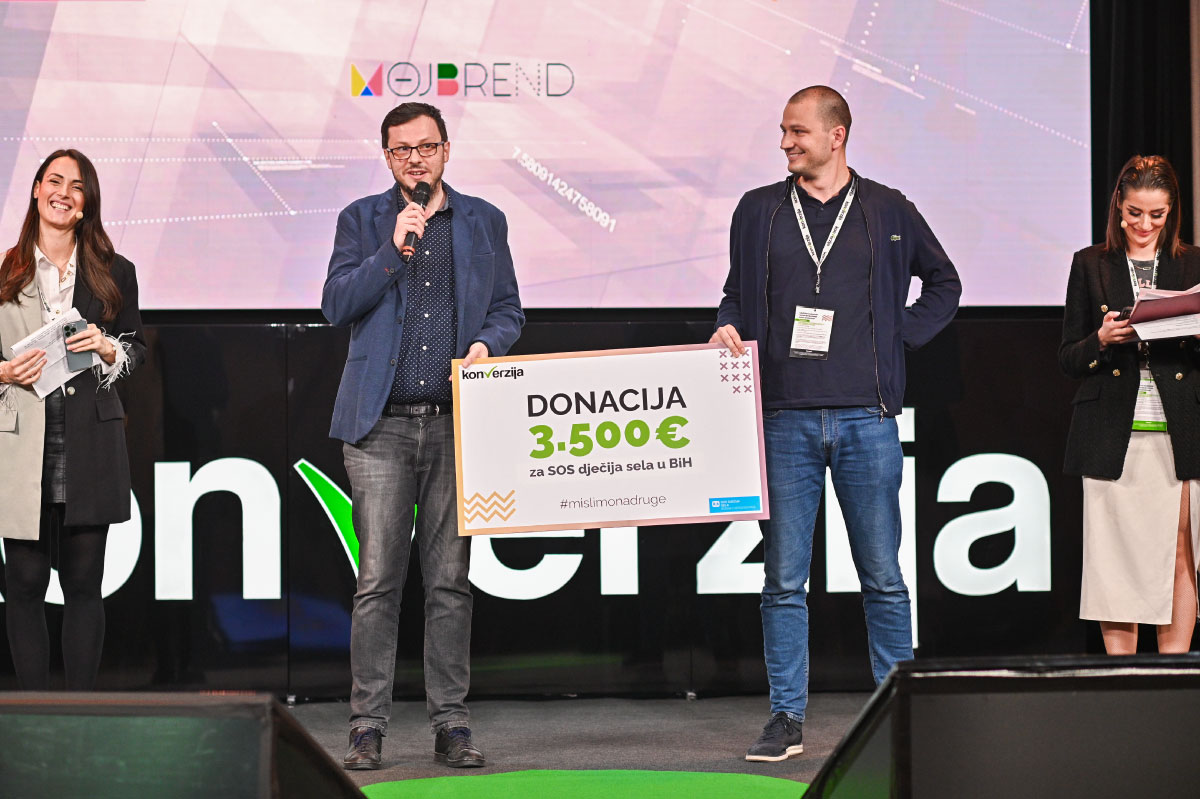 Nakon detaljnog razmatranja i mnogo istraživanja, odlučili smo da i u 2023. godini nastavimo saradnju sa ovom organizacijom i ujedno postavili još veći cilj.
Jer dobre priče rastu!
Zašto SOS Dječija sela u BiH?
Organizaciju SOS Dječija sela pokrenuo je austrijanac Hermann Gmeiner 1949. godine, a od tada je svoje djelovanje proširila na čak 136 zemalja svijeta.
To je jedna od najtransparentnijih humanitarnih organizacija u regionu, koja posluje i u Bosni i Hercegovini, tako da smo sigurni da će novac biti utrošen na pravom mjestu
Misija ove organizacije jeste pružanje stotinama djece toplo porodično okruženje, ljubav, osjećaj pripadnosti, edukaciju. Ukratko, priliku za bolju budućnost, što je ujedno cilj Konverziju u svakom pogledu.
Kako se donira novac?
Vaše je samo da učestvujete na Konverziji kupovinom ulaznice na www.konverzija.org, a trenutno to možete uraditi sa 10% popusta koristeći kupon "DONIRAM".
Spremili smo fantastičan program za jubilarnu petu konferenciju, koji uključuje nagrađene predavače svih prethodnih godina održavanja, izuzetan kvalitet svakog predavanja, sa fokusom na napredne teme, kao i sjajne klinike sa konkretnim i primjenjivim savjetima.
Donirani iznos zavisi od broja prodanih ulaznica, jer ćemo od svake ulaznice izdvojiti 17 EUR. Zato dijelite dalje ovu sjajnu vijest u digital marketing zajedni i pozovite svoje kolege i kolegice da vam se pridruže.
(Ujedno, imamo i količinski poput 4+1, tako da ostvarujete dodatnu pogodnost kada vas je više!).
I ne zaboravite, ovo je novac koji vi donirate i zato vam hvala.
Vidimo se u aprilu u Banjoj Luci!